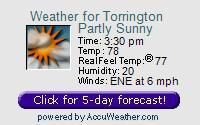 Welcome to the Annual 2Shot Goose Hunt!
Join sportsmen from around the United States as they gather in Wyoming's spacious countryside on the second weekend in December .
You'll enjoy the fellowship of competitive bird hunting when you come to Torrington, Wyoming, host of the Goshen County 2Shot Goose Hunt Annual Sportsmen's Invitational. Held each December, this event attracts outdoorsmen, artists, and visitors from throughout the nation.